Hello! Thank you for visiting the forums. You can sign up or log in using the button on the top right of your screen. If you do not have an account consider signing up and joining the forums community!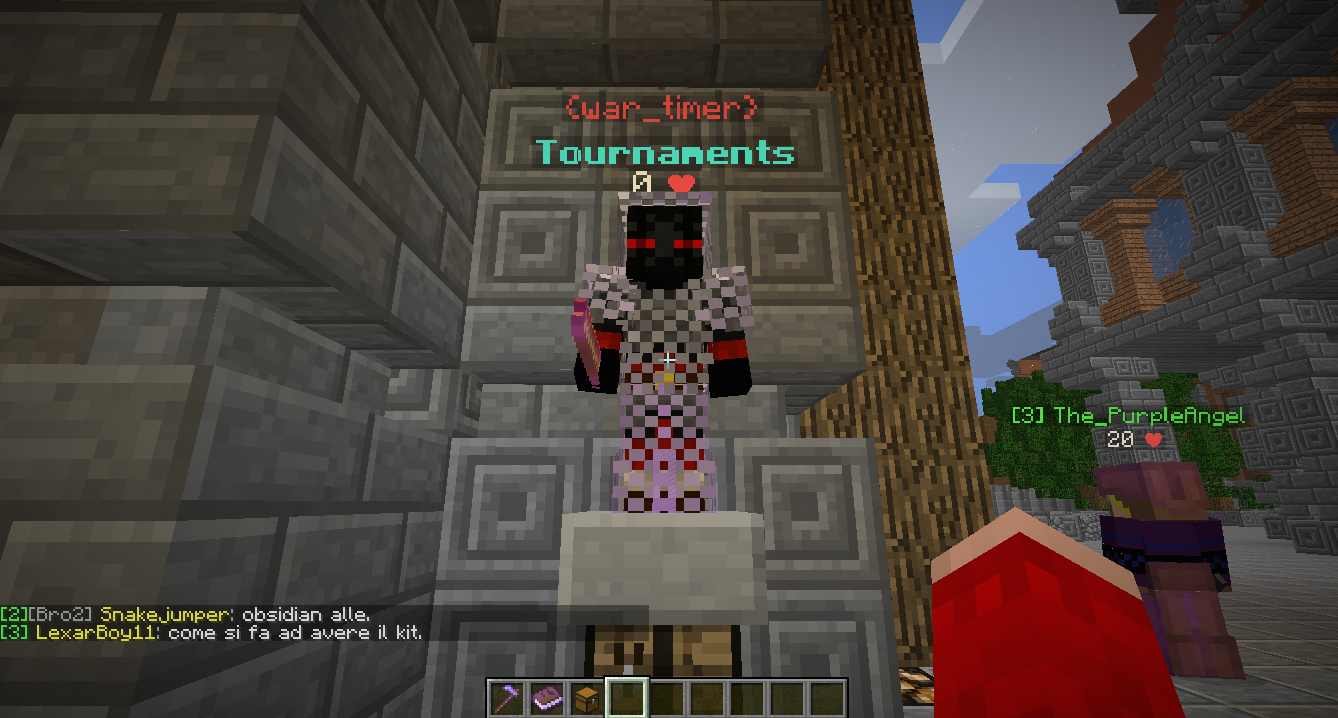 Hello, everyone!
We have a few new features we are excited to announce!
Tournaments are 2-3 day long events we will be running every once in a while.
This weeks tournament (which is currently live) revolves around Faction Wars. Factions who participate in Wars will receive points (ontop of the RP you normally get). 7 points if you win a war and 2 points if you lose a war. The factions with the most points when the tournament ends will get prizes!
Prize Breakdown:
1st Place: Diamond Chest
2nd Place: Gold Chest
3rd Place: 3 Legendary Crystals
4th - 10th Place: 1000xp & 1 Legendary Crystal
11th - 20th Place: 500xp & 1 Epic Crystal
21st - 54th Place: 250xp & 1 Rare Crystal
Revenge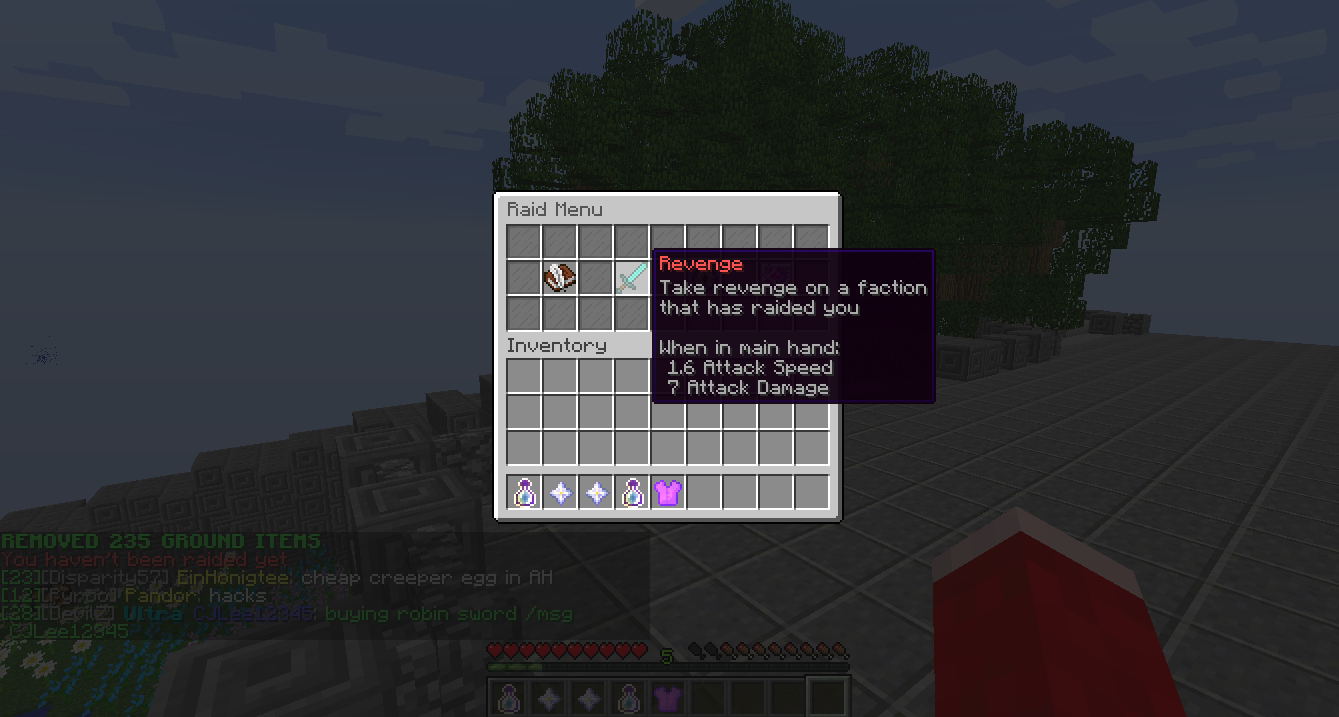 ​
We have added a new feature to Raids, revenge! This new option can be found In the /raid menu. You can now take revenge on another faction that has raided you.
​
Hello, everyone!

We have had a busy week this week with a lot of tweaks and additions to the server.

Recent Changes:
- Nerfed Decimate
- Nerfed Strength Pots
- Buffed Crit Skill
- Buffed Attack Speed Skill
- Reduced Defense max to 25 Skill points
- Defense ability, Blockage now unlocks at level 15
- Doubled defence % gained per level
- Better bases detection when doing a /f raid
- If you have been raided your faction gets raid protection for 2 hours to prevent back to back raids
- Raid Timer increased to 45min
- Villagers will no longer sell "illegal" items
- Default Minecraft tools (Diamond Picks, Diamond Shovels) only do 1 attack damage
- Recruits can no longer TP players to the faction's base
- Faction War GUI Improvements
- Players now earn 200 XP for winning a Faction War
- Players now earn 50 XP for losing a Faction War
- Different mobs now drop different amounts of XP
- Added more perks to donator ranks

Recent Additions:
- Item Insurance
* You can now insure any of your items to protect them from death.
- Chests
* We have added 3 new chests that make it easier to get Epics and Legendaries
- Skill Respec
* You can now buy the ability to respec / reset
​
Hello everyone!
I'm excited to announce the end of the pre-season. Tonight we will be reseting
Rank Points
(earned by participating in faction wars) and officially starting Season 1 of our
competitive faction wars
.
What are Faction Wars?
Faction wars are epic 3v3, 6v6 and 10v10 faction vs faction battles that occur in custom PVP arenas. These are network wide battles which allow you to battle other factions from other servers in the ultimate test of skill. Winning these battles earns your faction Rank Points or RP. Factions are ranked by their RP on global leaderboard.
Season Length:
Exact season length is still undetermined. We will make a post in the future outlining the timeline.
Season Prize:
Once the season is over the 1st, 2nd, and 3rd best ranking global factions will earn exclusive prizes. We will be announcing the prizes shortly, but you can expect them to be kick-ass!
How to Participate:
After the reset your faction can participate in the first season. Wars are completely
free
and you can do as many of them as you like. Your faction leader can begin queuing you for a war by typing
/war
. You must have at least 3 faction members online to participate in a war.
Good luck!
Hey, everyone!

It's great seeing so many of you online and enjoying our creation. We are working hard every day to create the best experience possible. I would like to take this time to go over a few changes / additions to the server.

#1 Raiding
We have enabled raiding on all servers! If you are the faction leader or an officer, you can start a raid by typing /raid.


To begin, you will need to scout a potential faction. Scouting gives you 60 seconds to view another faction's base. While in scout mode, you are hidden from all other players. Once your 60 seconds is up, you can choose to raid the faction you just scouted or scout another faction.

Raiding requires 6 Energy. Your faction gains energy every hour depending on how many faction members you have online. The more faction members you have online, the more energy you will get. Energy is capped at 20, so once you hit 20 energy, your faction will stop earning it.

While raiding, you will have 20 minutes to grab as much loot as possible. You are not allowed to go back to your faction's base or spawn while raiding, so make sure you have enough room in your inventory.

If you have been raided, you can check the raid log in /f to see which faction has raided you and when.

#2 Faction Alliances
You can now ally with other Factions on your server. To ally with a faction, type /f ally <faction name>. The other faction will get an invitation to ally with you. Allies will not be able to PvP or raid each other.

#3 Name Tags
At launch, we had your level above your head in your name tag. We have been forced to remove this due to performance issues. We are will be adding this back soon once it's been better optimized.

#4 Auction House
We have temporarily disabled the AH due to a bug. It will be back soon.

#5 Hackers / Cheaters
We are working on a solution to weed out all the hackers. Know that if you are hacking, we will catch...
Hey, Everyone!

I would like to introduce a new feature we have been working on! /f gift allows you to send a FREE gift every 24 hours to one of your fellow faction members (they must be online). These gifts are randomly chosen and can range from Common to Legendary Crystals.



Enjoy!
Hello everyone,
We've created a
Discord
server for the Pitforge community to communicate on.
You may be asking, "What is Discord?" Well Discord is an application/ web page that is very much similar to TeamSpeak.
To connect to discord, all you have to do is click this link
[Here]
and it will take you right to a page asking you to enter a username, preferably your in game Minecraft name. Once you've entered your name, hit continue and it will take you right into the Discord page that will look like this.
As you can see it's a pretty simple layout. If you want to talk to someone via mic, just click one of the channels you see down the left hand side of my screen. For example, OP prison or Classic prison.
You'll notice that the Private channels 1-3 are locked. If you want to have a private conversation with some of your buddies, just as a Moderator or up, and they can drag you all that want to be moved in into the channel.
If you need help, don't hesitate to ask a staff member, if you need help and you're willing to talk via microphone, a staff member (Moderator or above) can move you into the support channel so you can sort out any problems you have.
If you'd prefer to not talk via microphone, you can always just use text chat. If you'd like to talk to someone privately, just left click on their name, and send a message as shown here.
If you'd like to talk to everyone on the server, just click the #lobby in the "Text Channels" and you can talk to everyone on there!
Another helpful tip is where to mute and unmute your microphone. (Also microphone and other settings) shown in the picture below.
The rules for Discord can be found...​